Welcome to New York 1985 - 2005
Billy and Tex held court at Life Cafe. I wrote sad and angry poetry on which they passed judgement.
My neighbor David was the first person I knew who died of AIDS. He left me some kitchen utensils and a signed Keith Haring book.
I stumbled upon the first Wigstock in Tomkins Square Park and heard house music for the first time.
The upside down martini glass with a slash through it, the logo of the band Missing Foundation, was tagged throughout Alphabet City. The party is over.
I met an Irish performer who opened the Lizard's Tail, a space on S. 6th Street in Williamsburg, Brooklyn.
South 6th Street block party under the Williamsburg bridge.
We had a warehouse for free if we were willing to clean it up. I created a graveyard with jokes on the headstones and performed as a ghost.
Giant puppets went on parade to support the community gardens of the East Village and Lower East Side.
I built sculptures of birds out of the garbage on the Williamsburg waterfront.
Dozens of artists collaborated on a multi-media art and music event in an abandoned shipping terminal.
Industrial beauty infused with sunlight as we prepare for two thousand people to come to the show.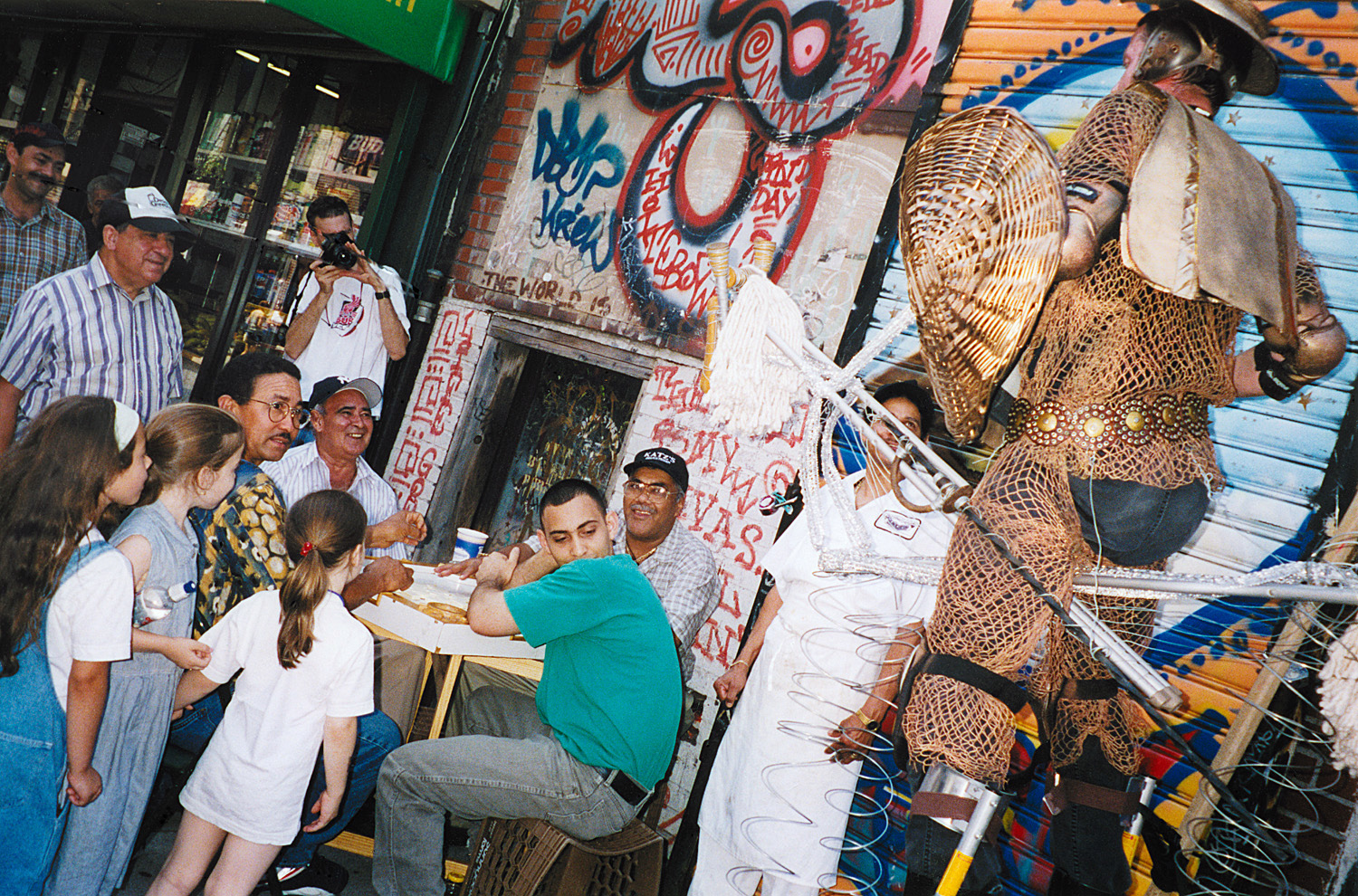 Don Quijote performance on the Lower East Side.
I produced an interactive performance and art installation event on Avenue B.
I performed as Sorrow with a street theater group.
We cleaned up the garbage on the waterfront on a hot summer day so that we could have a show.
I painted rocks white and built a dinosaur skeleton for a festival on the Williamsburg waterfront.
Live music on the waterfront.
I built a spiral out out the rocks, bricks and cinderblocks in the shipping terminal creating a meditative walking experience.
A sandbox of fake snow in a playground we built for a night on the Lower East Side.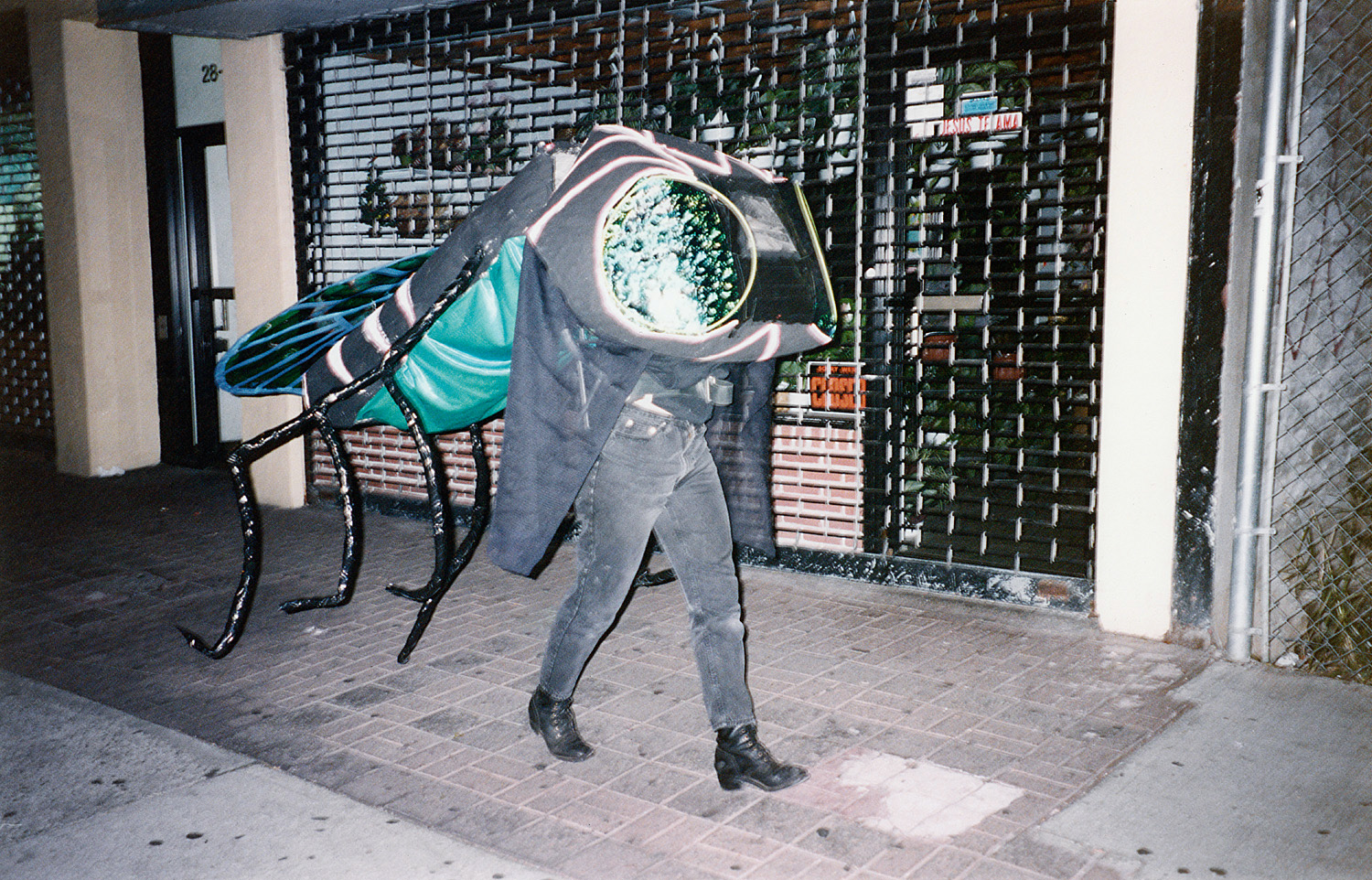 I would walk to the show, or take the subway, wearing my costume.
A street theater group doing scientific research in the meat packing district.
I was given an inkless tattoo. I thought the tattoo artist was taking the blood blot prints home with him, and he thought I was taking them with me so we left them behind. This photograph is the only remaining artifact.
DJ booth and canopy bed in South Williamsburg.
We dressed and designed our spaces with a bold sense of fun.
Street performance of a mad doctor on the Lower East Side.
I hung from the ceiling dressed as a bat more times than I can remember.
I made waffles, glued them to my dress and then had the audience butter and syrup me.
I was five blocks from ground zero on 9/11. This performance was for the opening of a club in Brooklyn.
The Idiotarod, instead of dog sleds we used shopping carts.
Each party would have a theme and hand made decorations in the ongoing DIY culture.
I was fortunate to have the opportunity to create art installations and interact with the audience as I performed inside them. A piece of my heart was shared through my work.